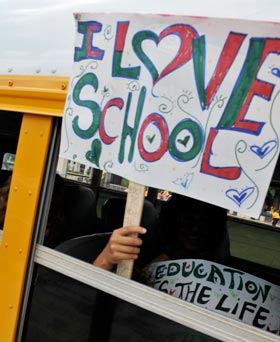 Hui for Excellence in Education, or "HE'E," is a statewide coalition of diverse stakeholders committed to working collaboratively to identify opportunities to improve public education in Hawai'i. HE'E seeks to be the focal point for community and parent engagement while serving as a public resource for educational policy.
HE'E was formed in May 2010 by parents and community members who stood up and said "no" to school furloughs and "yes" to re-establishing education as a public priority.
In support of Hawai'i's successful Race to the Top application, HE'E will seek to coordinate parent and community engagement to further the Department of Education's new strategic plan.
Priorities for the coming years
HE'E's priority areas for 2011-2016 include:
Enhancing family engagement in schools
Influencing public policy that affects education
Building trust and relationships within the Coalition
Promoting family engagement as one of the key components of school leadership
Creating family empowerment by collaborating to meet the basic needs of every child
Building trusting relationships between schools, families and community
Identifying needs and aligning with stakeholder resources
Removing obstacles to good teaching
Shifting perception of public education by showing evidence of success
He Moku, He Wa'a, He Moku
Hawai'i's application for the Race to the Top cited the metaphor of a canoe with paddlers working together toward education reform. The motto, "He Moku, He Wa'a, He Moku," or "an island, a canoe; a canoe, an island" was used to suggest that educational transformation can only be accomplished collaboratively. HE'E stands ready to support and represent parents and the greater community as paddlers in our canoe.
We invite you to join in our collaborative effort for public education transformation. For more information, please contact Cheri Nakamura, Director, at 808-375-5066 or use our email contact form.
HE'E is funded by The Learning Coalition.
.